In an ideal world all training would be delivered at the same price, the reality is anything but. Most RTOs have a rate card similar to the one below. Training is delivered to some clients at a flat rate and others at a discount rate.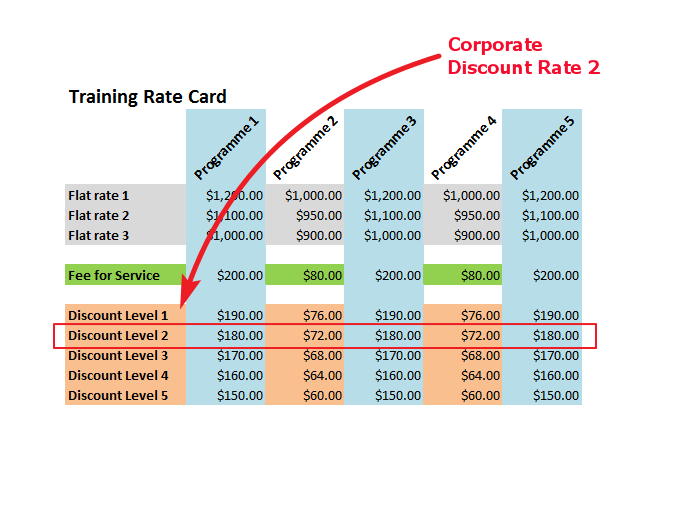 The difficulty until now has been how to enrol students online at different rates for the same course when some pay directly and others are paid for by their employer or community. The problem is compounded when private and public courses come into the mix. With the new Gecko Enterprise Enrolment module, all courses can be available for online enrolment, everyone can enrol or apply online and each will be charged the correct amount automatically. Set-up your price types [this does take time], configure the module [we'll do that for you] and forget it. You can even change the prices within the discount bands and not worry about editing the web site – it already knows!
Here's how it works:
The will-be student visits your website, clicks on the Corporate Clients link and then enters the code [in this case – gecko].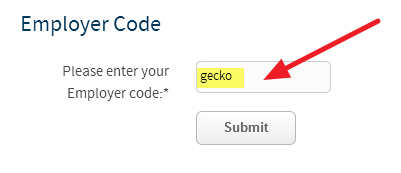 Client URL: If the code is too hard to use then we also offer the option of a client URL [web address] and landing page.
The Landing page: The client code validates the will-be student as an employee or community member and sets up the course offers and agreed pricing accordingly. The client landing pages can include a logo with a link back to their own website, a welcome message and a filtered course finder to select and book their training.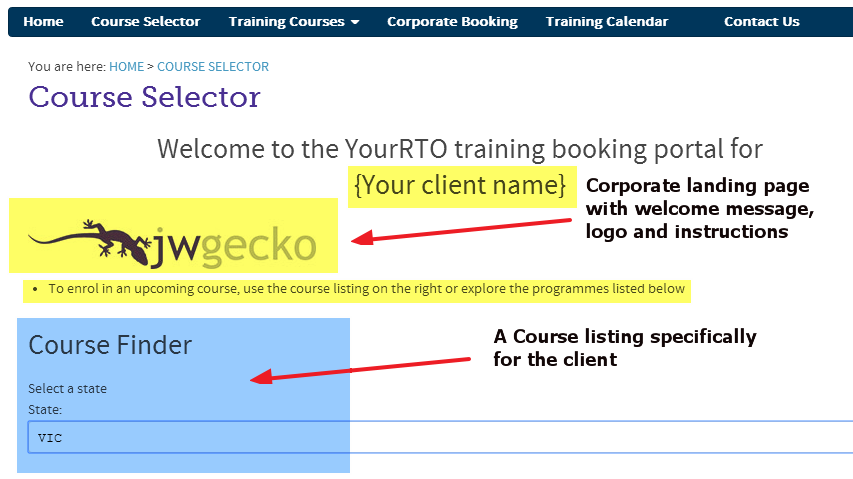 The key points:
Once we know the corporate entity the will-be student is enrolling from we can:
Create a landing page with logo and Welcome message
Show courses they are eligible to enrol on

Private
Public
Both Public and Private

Determine the pricing band for the client and the actual price
Pricing – visible or not
Payment step – visible or not
On enrolment the correct pricing is associated with the enrolment in the student management system – even the invoicing is easy since the correct pricing is already associated with the enrolment.
Additional pricing rules may be applied using our Coupon Code technology.
"Flat Rate pricing" for courses is also supported.
This Rate card functionality will be released at the VELG conference in September and is an add-on to our advanced enrolment product set that includes Group Enrolment.
Contact us here or book a demo on this link
Thanks for your time,
John Wooding
VET Enthusiast